A stainless steel sheet is a product that cannot be ignored from metal construction. It is a product that can be used for many applications and is used in the manufacture of large tanks, machines and other (large) structures. It is therefore important that the correct stainless steel sheet is used for your construction or machine. Since every construction and every machine has to be provided with a different format, van Geenen can provide you with any stainless steel sheet to measure!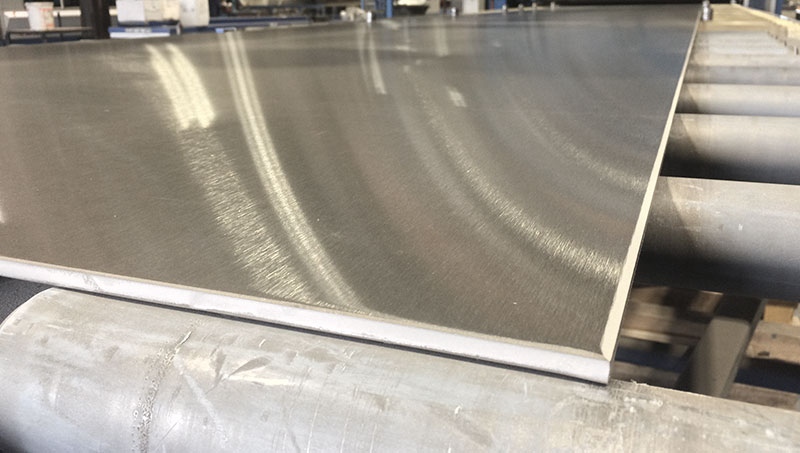 Stainless steel sheet for metal construction – Van Geenen B.V.
We offer different thickness stainless steel sheets. Van Geenen is also the right place for a perforated sheet! When looking at different stainless steel sheets, broadly speaking, four different main groups can be characterized, namely; austhenic stainless steel, ferritic stainless steel, martensitic stainless steel and duplex stainless steel.
Frequent
Austhenic stainless steel is a stainless steel sheet that is often used. Types that are often used are stainless steel 304 and stainless steel 316. The reason this material is popular is because it is not only very easy to form, such as deep drawing and bending, but also very easy to grind and polish! In addition, this stainless steel sheet has excellent corrosion resistance and is easy to weld!
Hot Rolled vs Cold Rolled
A hot-rolled sheet is characterized by the rough mill scale, which must be pre-ground with a coarse grain. When a stainless steel sheet thicker than eight millimeters is used, hot rolled should actually be chosen as standard. Also, from a technical or visual point of view, regrinding is often required.
A cold-rolled stainless steel sheet is a lot less rough than the hot-rolled stainless steel sheet and because it is rolled more often with very smooth rollers, the plate gets a light gray layer.
Roughness
The roughness value (RA) is higher for a hot-rolled stainless steel sheet (RA: 3) than for a cold-rolled stainless steel sheet (RA: 0.3).
The roughness of a is important for many companies. For example, when we look at the food industry or the cleaning industry, it is important that a stainless steel sheet is as smooth as possible because it is easier to clean and because it has to be worked on.
Especially in the food industry there are strict rules attached to hygiene and by means of very flat material a stainless steel sheet contributes to making cleaning easier.
Why sharpen?
A grinding operation is usually applied when electroplating is chosen. This means that a stainless steel sheet can also be copper-plated, nickel-plated, chrome-plated, galvanized and gold-plated.
If you already know that you are opting for one of the above galvanic processes, it is important to take this into account in the engineer phase so that the processing costs can be kept low.
At Van Geenen you can find all your stainless steel sheets! Feel free to contact us without obligation.
https://vangeenen-polishing.com/stainless-steel-sheets